Laranjeiras Condominium, in Paraty, Rio de Janeiro, was conceived in the beginning of the 70´s by a company named Parati Touristic Development –constituted by the Brascan and Adela groups – on a plain area between the mountains and the ocean, approximately 25 Km away from the center of Paraty. It covers 2.800 acres and 95% of it is covered by the Atlantic Forest, preserved and protected by law, both by the Brazilian Forest Code (Law 4.771/65) and by State Edict 17.981, on October 30, 1992, which instituted Juatinga´s Ecological Reserve.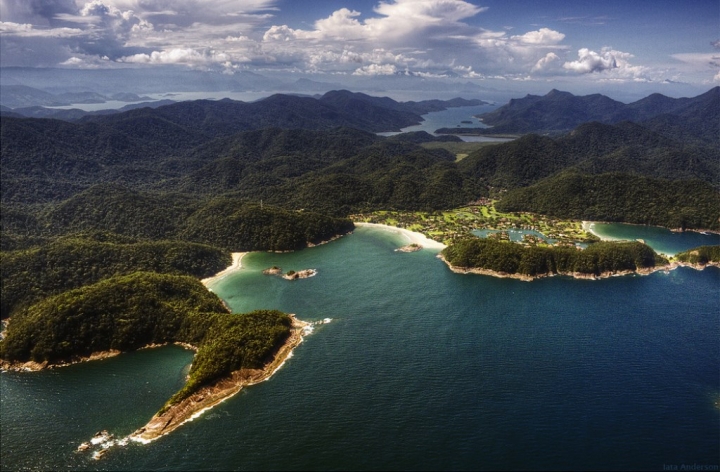 The condominium consists of 292 plots, with sizes between 1.000 and 2.000 m², divided into twenty blocks and two open-ground tracts of land. The plots were planned to face one of the following: the beach, the golf course, the marina or the Atlantic Forest. The golf course, the marina and the club are in the center of the condominium being, therefore, equidistant from the plots. There are approximately 240 houses built, many of which occupy more than one plot.

Laranjeiras has one of the most complete condominium infrastructures in Brazil: all streets are paved, the electricity and telephone cables are underground, there is a wastewater treatment plant (water is impounded from a spring in the condominium), generators in the case there is a blackout, security 24 hours a day, two guarded entrances and patrol cars, a club (with pools for children and adults, tennis courts, sports courts, restaurants, market, Wi-Fi, playground and gym), a golf course (with Putting Green, Driving Range, nine holes and par 64), garden areas with lakes, medical center, heliport equipped for night flights, a gas station for cars and boats, 100.000m² of sailing area marina, a nautical center with wet and dry spaces. 
Within the area of the condominium there are 4 beautiful beaches:

 – Laranjeiras beach: is the longest and most visited beach of the condominium. It is around 770 meters long, and there are 67 plots facing the beach. On one of its ends there is a river of clean transparent water, forming shallow pools, ideal for children to play safely. Near the middle of the beach there is a small desert island.

 – Fazenda Beach: there are 39 plots along the length of 470m. On one of its ends there is a small river and, on the other, the marina´s entrance.

 – Sobrado Beach: it´s around 100m long, and there is only one tract of open ground.

 – Vermelha Beach: it is around 100m long, and there is only one tract of open ground. 
Our agency has approximately forty properties for sale and vacation rental in Laranjeiras Condominium. properties for sale e vacation rentals.